Landscaper of the Year 2011
The Latest News at FloraTerra Landscape Management
San Jose Landscape Management Company Finalist in "2011 Landscaper of the Year" Award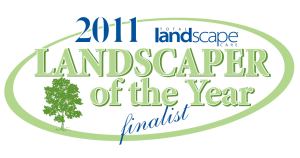 San Jose, CA 2/01/2011 – Gene Ebertowski Jr. owner of FloraTerra Landscape Management Company, a San Jose based landscape management company is among the 12 finalists for the prestigious 2011 Landscaper of the Year award sponsored by Case Construction Equipment.
FloraTerra Landscape Management, servicing the Greater Bay Area, the Tri-Valley, and Central Coast regions of California was chosen from 39 companies throughout North America that entered the competition.
"Total Landscape Care" magazine, a leading trade publication for the landscape management industry presents the awards and spotlights each company in a feature article. In addition, company representatives from the 12 landscape management finalists won an all-expense paid four-day cruise to the Bahamas.
The Landscaper of the Year program honors North American landscape management companies whose business savvy, high quality of work and community involvement put them at the forefront of the landscaping industry.
"At FloraTerra, our focus is on value, responsiveness, safety and sustainable landscape management practices," Ebertowski said from his San Jose office. "As a San Francisco Bay Area company, it's a thrill to be recognized nationally for this prestigious honor."
A 28-year landscape management veteran, Ebertowski provides maintenance, construction, irrigation conversions, tree care and water management for corporate commercial, medical and retail sites throughout the Greater Bay Area and beyond.
Since 1997, San Jose-based FloraTerra Landscape Management has been a Bay Area industry leader in landscape maintenance services. FloraTerra uses cutting-edge processes and materials with an eye on sustainability and conservation through installation of new, innovative irrigation systems that lower water costs and are a green alternative to conventional systems currently in place on many sites.
Visit their commercial landscape management web site at www.floraterra.com and view the link to their new three-minute Impact Movie.
Case Construction Equipment sells and supports a full line of construction equipment around the world. More information is available at www.casece.com. Case is a division of CNH Global N.V., whose stock is listed at the New York Stock Exchange (NYSE:CNH), which is a majority-owned subsidiary of Fiat S.p.A. (FIA.MI). Visit www.cnh.com for more information about CNH.
Total Landscape Care and www.TotalLandscapeCare.net deliver news for green industry and landscaping management professionals. The magazine includes staff-written news articles covering an array of topics including economic, general interest and industry news as well as product information, before-and-after photos of landscapers' favorite projects and a monthly bilingual safety column.
Company/Employee Licenses, Designations and Certifications
FloraTerra Landscape Management is committed to continued education, training, and skills certification for our employees. Industry related licenses and certifications demonstrate training and expertise that will be of great benefit to our client's objectives. Licenses, Designations, and Certifications currently hold includes:
PLANET- Landscape Industry Certified Manager
2011 Landscape Of The Year Award Finalist
CLCA-California Landscape Contractors Association, Certified Landscape Water Manager
EPA Water Sense Partner
Water Management Company of the Year Award 2006 and 2008
IA-Irrigation Association, Certified Landscape Irrigation Auditor
Certified Site Supervisor, South Bay Water Recycling
ISA Certified Arborist
D-49 California State Contractors License ( Tree Care)
C-27 California State Contractors License ( Landscape Category)
C-61 California State Contractors License
Red Cross Certified in CPR and First Aid
State of CA Department of Food and Agriculture Qualified Applicator License # A,B,C,F
Bay Friendly Certified Landscape Professional
Bay Area Certified Green Gardener