Professional Certifications
Professional Designations and Certifications
FloraTerra Landscape Management is committed to providing continued education, training, and skills certifications for all employees. Industry related licenses and certifications demonstrate the training and expertise required to fulfill our customers' landscape management objectives. Our extensive range of licenses, designations, and certifications guarantees that your landscaping concerns will be resolved by qualified professionals.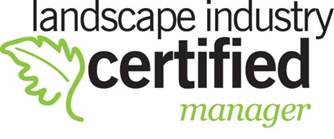 The Professional Landcare Network (PLANET) certification program, Landscape Industry Certified, is supported and used internationally. Participation demonstrates credibility and commitment to best practices. In fact, the International Certification Council (ICC) has worked to align this PLANET certification program with national standards, following a robust strategic initiative.
California Landscape Contractors Association, Certified Landscape Water Manager
Irrigation Association, Certified Landscape Irrigation Auditor
South Bay Water Recycling, Certified Site Supervisor
Environmental Protection Agency (EPA) Water Sense Partner
Water Management Company of the Year 2006, 2008
PLANET, Landscape Industry Certified Manager
D-49 California State Contractors License (Tree Care)
C-27 California State Contractors License (Landscape Category)
Red Cross Certified in CPR and First Aid
State of CA Department of Food and Agriculture Qualified Applicator License # A, B, C, F
Bay Friendly Certified Landscape Maintenance Professional
Bay Area Certified Green Gardener
International Society of Arboriculture (ISA) Certified Arborist
Please Call Us At 408.275-1200 Or Contact Us Online.