Retail Shopping Center Landscaping Company
San Jose Ca, Retail Shopping Center & Mall Landscape Services
FloraTerra is a retail shopping center landscape company, our family owned business is local and provides Pro-Active Landscape Solutions for some of the largest most prestigious retail centers in the greater Bay area. We provide an array of retail shopping center landscape services, drawing on our deep extensive experience in the area of retail landscape management.
Quality, Transparency and Accountability, Guaranteed!
Anyone can guarantee quality retail landscape maintenance; our trained horticulturists back that guarantee with our rigorous quality assurance program. An assigned specialist performs regular landscape inspections of your facilities and analyze the results. You can rest assured that we're tracking our performance—and you can see that data, too. GPS, timestamps, and photos ensure our landscape inspections are accurate. It's part of our commitment to quality, transparency and accountability. Learn More
Retail & Mall Landscape Services in the San Jose Area
| | |
| --- | --- |
| Landscape Maintenance | Irrigation Repairs & Updates |
| Landscape Design | Shrub, Tree & Flower Planting |
| New Installation | Lawn Conversions |
| Landscape Renovation | Budget Planning |
| Tree Care & Arborist Services | Concrete & Paving Stones |
| Cleanup & Pruning | Water Management |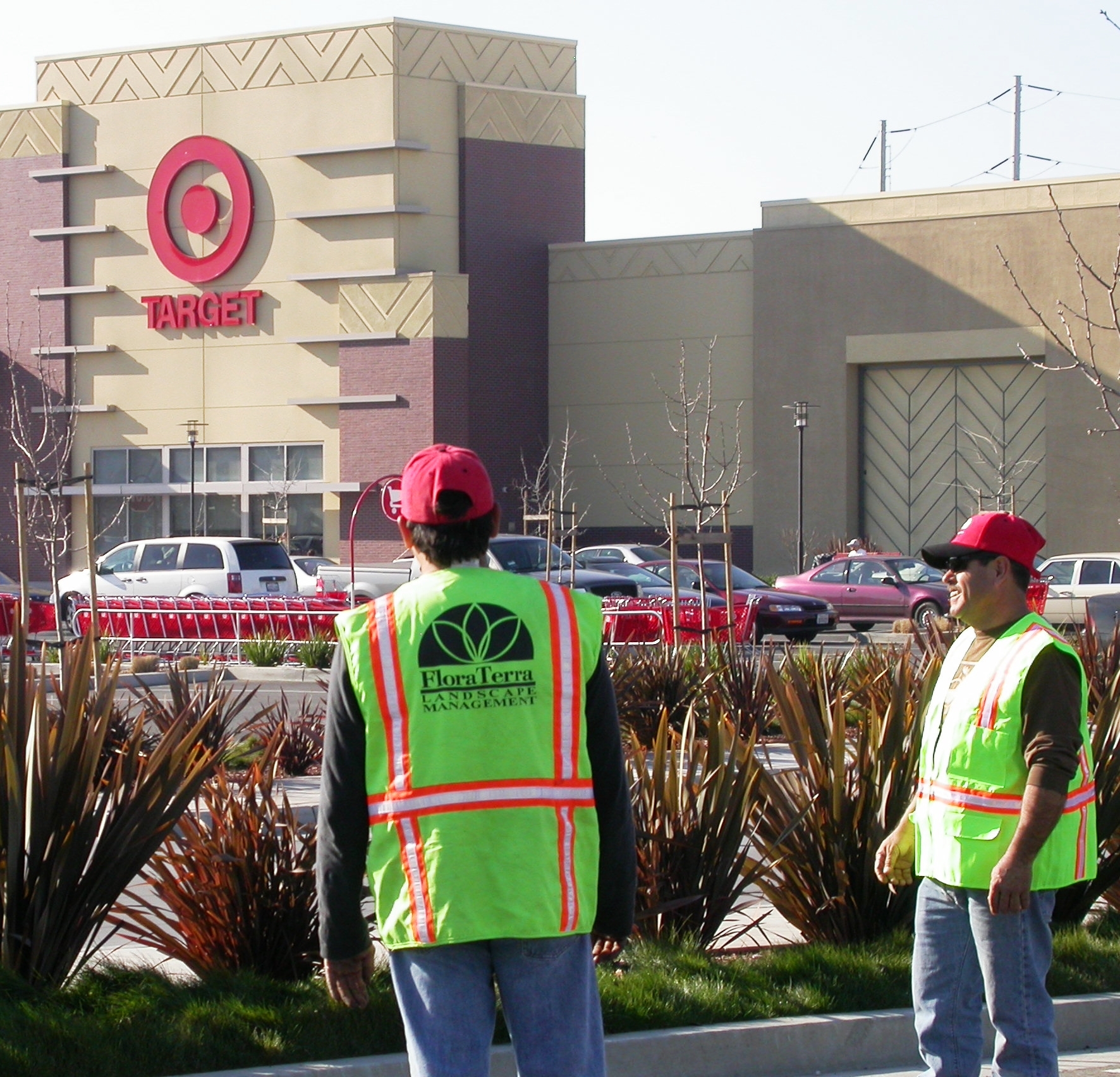 Professional Tree Care and ISA Certified Arborists
Many of the property management companies that work with our retail shopping center landscaping company look to FloraTerra for their commercial tree trimming and we protect clients from the liabilities they pose. FloraTerra's Commercial Tree Pruning Division offers tree pruning and tree management staying on budget exceeding our client's expectations.
We Go Where You Go!
| | | |
| --- | --- | --- |
| Santa Clara County | San Mateo County | Alameda County |
| Silicon Valley, CA | Palo Alto, CA | Fremont, CA |
| San Jose, CA | Menlo Park, CA | Newark, CA |
| Santa Clara, CA | San Carlos, CA | Union City, CA |
| Sunnyvale, CA | Belmont, CA | Hayward, CA |
| Mountain View, CA | Redwood City, CA | San Leandro, CA |
| Cupertino, CA | Foster City, CA | Alameda, CA |
| Milpitas, CA | Burlingame, CA | Warm Springs, CA |
| Morgan Hill, CA | Daly City, CA | Ardenwood, CA |
| Gilroy, CA | South San Francisco, CA | Mission San Jose, CA |
A Unique Cost Saving Solution for Today's Economy
With the future Economy and retail tenant vacancy rates hard to predict,  besides that we offer a unique landscape Solution specially engineered by our retail shopping center landscape company, especially for owners that must reduce their costs to stay on Budget. Manage your costs and improve your retail shopping center landscaping budget with our new innovative Reduced Cost Landscape Maintenance Program, potentially saving up to 33%. Learn More
Fast, Easy Communication
As our client, you'll have access to the simple FloraTerra app. Submit work orders and report problems right from your portable smart phone device (or via an easy-to-use website—no download required). You can always get in touch with us quickly. Requests get updated in real time so you can check their status. We track how long it takes us to resolve every issue, which helps us uphold our commitment to our fast and easy communication.  Learn More
Annual Color, Seasonal Flower Bed Design & Planting
At FloraTerra, we offer year-round flower/ color design and planting services, customized for the season, climate, and your landscape. With 25 years of experience and strong partnerships with local growers, we offer exclusively-prepared (pre-grown) plant and flower materials that minimize unnecessary maintenance, stretch commercial landscape installation and maintenance budgets, and enhance the beauty and growth of your landscape all year long.
Please phone our office or click below (408) 275-1200.