Tree Thinning Company
Tree Thinning Services
Retain a Professional for Your Trees in the San Francisco Bay Area
The ISA-Certified arborists at Flora Terra Landscape Management Services offer trees thinning services. Although tempting, tree thinning should not be a do-it-yourself job unless you have the training and skill to do it right. We follow best practices that not only invigorate your trees but also accentuate their individual character.
Call us today at 408-275-1200 or fill out our online form to schedule an appointment for tree thinning.
What is Tree Thinning?
Tree Thinning is the selective removal of branches to increase light penetration and air movement through the crown. It helps clean up the tree by selectively removing the unwanted branches.
Tree thinning has many advantages. Prudently done, tree thinning:
Makes heavily foliaged plants look lighter and more striking
Reduces the weight on heavy limbs while still retaining the tree's natural shape
Opens up its canopy to allow more sunlight to penetrate the interior of the tree
Reduces resistance to wind
Reduces stress during drought periods or following construction damage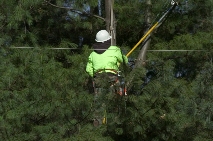 Selection of thinning method takes into consideration the age of a stand at the time of first thinning and the condition and species of trees. Reckless tree thinning can reduce a tree's food-making capacity. This may cause stress on the trees.
The trained arborists at Flora Terra deal with tree thinning using a scientist's mind and an artist's eye. They remove only what is necessary, leaving your tree looking splendid as ever!
Call us today at 408-275-1200 or fill out our online form to schedule an appointment for tree thinning.
Why you need tree thinning services?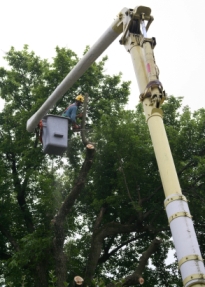 An important aspect of attractive landscapes is well-maintained trees and shrubs. Trees that are pruned and trimmed in a timely, efficient manner add to the aesthetic appeal of any landscape. Tree thinning is an important technique that helps rejuvenate trees and goes a long way in the maintenance of tree health.
Flora Terra provides expert tree thinning services for commercial complexes, medical campuses, business parks, retail and industrial properties, estate properties and home owners' associations in all areas of San Jose, Santa Clara, Palo Alto, San Mateo , Sunnyvale, and the Morgan Hill area.