Shopping Center Landscaping Service in Morgan Hill CA
Morgan Hill Ca, Shopping Center & Retail Mall Landscape Company
FloraTerra is a long time leader providing shopping center and retail mall landscaping services in and around Morgan Hill and South Santa Clara County. Our retail center landscaper's are an exceptional landscape maintenance company for for retail centers throughout the Morgan Hill and South County area's. We handle every aspect of your shopping center landscaping services, drawing on our deep extensive experience in the area of retail landscape management.
Our Shopping Center Landscapers Provide Day Porters, Power – Pressure Washing, Sweeper's
At FloraTerra, we offer shopping center and retail mall landscaping services that include Day Porters, Power- Pressure Washing, Parking Lot Sweeping, Tree Care and Hauling, just to name a few. We understand the importance of that critical first impression and Sanitary Curb Appeal. Maintaining a Healthy sanitary environment is our number one priority when it comes to these value added services. We provide cost effective pricing for all of these services. We are fully bonded and insured to meet your needs. Learn More
Quality, Transparency and Accountability, Guaranteed!
Anyone can guarantee quality work, our trained shopping center and retail mall landscaping experts in Morgan Hill, back that guarantee with our rigorous quality assurance program. An assigned specialist performs regular landscape inspections of your facilities and analyze the results. You can rest assured that we're tracking our performance—and you can see that data, too. GPS, timestamps, and photos ensure our landscape inspections are accurate. It's part of our commitment to quality, transparency and accountability.  Learn  More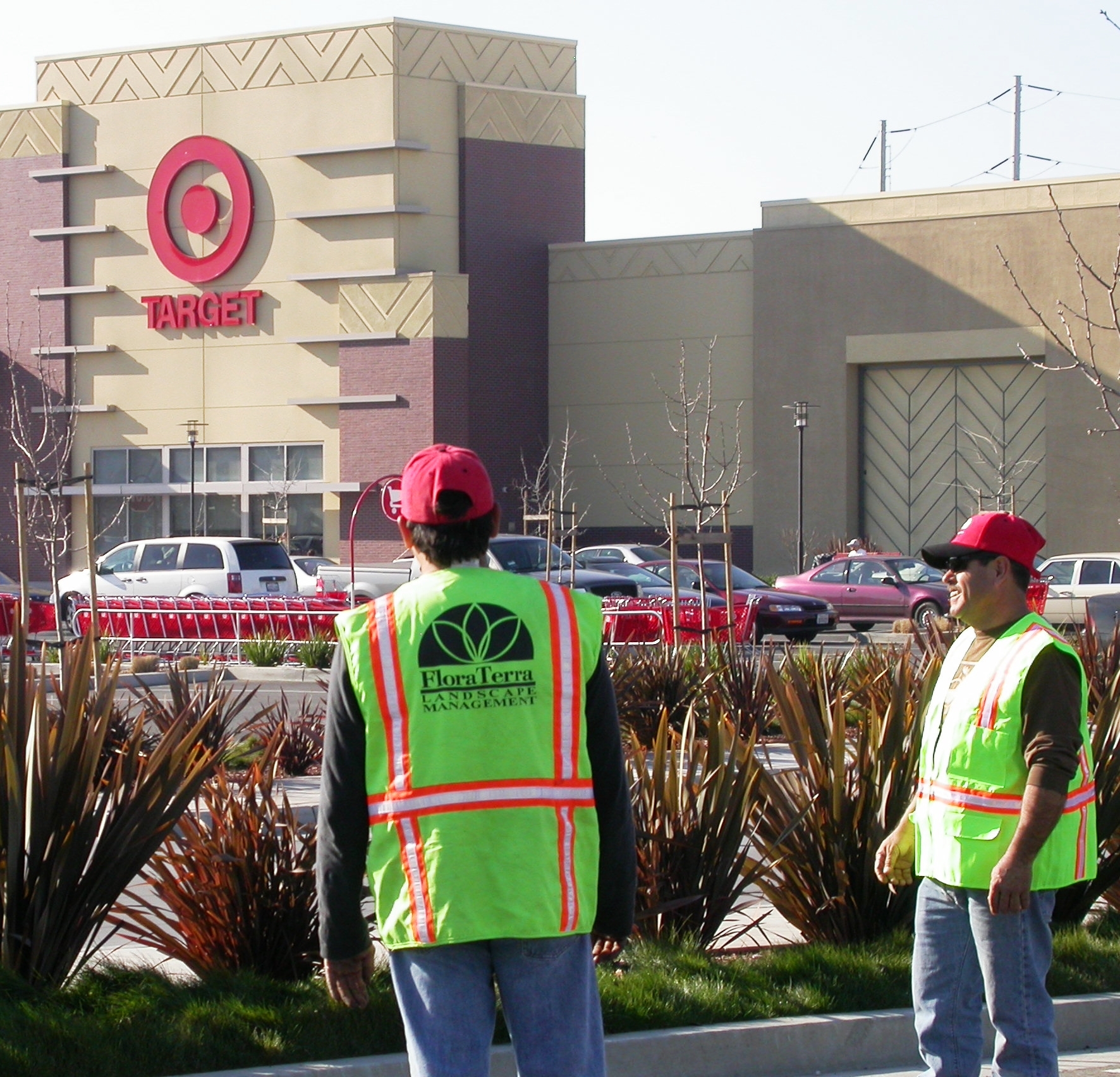 Retail Tree Care and ISA Certified Arborists
Many of the property management companies throughout the Greater Bay Area look to our shopping center and retail mall landscaping services for our commercial tree services, which includes protecting clients from liabilities that tree's pose. FloraTerra's Commercial Tree Care Division offers tree pruning that stays on budget and exceeds our client's expectations.
Stunning Outdoor Retail Space That Conserve and Reduce
Artistically shaped planter beds, creatively designed hardscapes, and soft lighting all contribute to a well managed shopping center landscaping service. Flora Terra's landscape architects use fresh creative ideas that reduce things like CAM costs, maintenance, water and create stunning outdoor retail space.
Technology for Fast, Easy Communication
As part of our shopping center and retail mall landscaping service, you'll have access to our simple FloraTerra app. Submit work orders and report problems right from your portable smart phone device (or via an easy-to-use website—no download required). You can always get in touch with us quickly. Requests get updated in real time so you can check their status. We track how long it takes us to resolve every issue, which helps us uphold our commitment to our fast and easy communication. Learn More
Shopping Center & Mall Landscape Services Include:
| | |
| --- | --- |
| Lawn Care | Quality Assurance , Guaranteed |
| Landscape Maintenance | Uniformed Employees |
| Design Services | Branded Vehicles |
| Tree Care | 24 Hour Emergency Response |
| Landscape Renovation | Easy Communication |
Areas We Service:
| | | |
| --- | --- | --- |
| Santa Clara County | San Mateo County | Alameda County |
| Silver Creek Valley, CA | Palo Alto, CA | Fremont, CA |
| San Jose, CA | Menlo Park, CA | Newark, CA |
| Santa Clara, CA | San Carlos, CA | Union City, CA |
| Sunnyvale, CA | Belmont, CA | Hayward, CA |
| Mountain View, CA | Redwood City, CA | San Leandro, CA |
| Cupertino, CA | Foster City, CA | Alameda, CA |
| Milpitas, CA | Burlingame, CA | Ardenwood, CA |
| Morgan Hill, CA | Daly City, CA | Warm Springs, CA |
| Gilroy, CA | South San Francisco, CA | Mission San Jose, CA |
For More Information, Please Call or Click Below (408) 275-1200